Welcome to the final week of our Summer Fun theme…and the final week of our school year!
All of last week's Summer Fun read alouds and activities can be found below this week's plans. They are from Friday to Monday. This week's plans start at Monday and go to Friday.
Monday, June 8
Monday's activities let you use your five senses to enjoy the sights, sounds, smells, tastes, and textures of summer.
The Sense of Sight (Seeing)
Let's start off with some sights of summer.
I See Summer 
The Sense of Hearing (Sounds)
Use your sense of hearing to practice the alphabet under the ocean with the link below. If you keep watching after the alphabet song, you can practice counting and colors, learn about the planets, and find out different ways to eat an apple.
You can learn more about the ocean if you go to Week 4 of Scholastic's Learn At Home on line resources.
https://classroommagazines.scholastic.com/support/learnathome/grades-prek-k.html?promo_code=6294&magazineName=classroommagazines
The Sense of Taste (flavors)
You use your sense of taste when you eat. Try to guess the taste of your food each time you have a meal or a snack today. Is your yogurt spicy or sweet? Is your apple salty? 
Math Video
Count to 15 with a pirate!
4/5 year old friends, that parrot ate up all the bird seed before we could count it! Is that adding or subtracting?
The pirate just brought back lots of treasure he found sailing on the sea. Does that mean he added to any treasure he had or did he subtract (take away) from it?
The Sense of Smell (Scents)
Use your sense of smell outside. Take a walk and see if you smell anything that tells you it's summer. Here's a hint about one summer smell. Today's the day my lawn gets mowed!
The Sense of Touch (Textures)
How do you feel when you walk outside today? Does the sun feel warm? What happens if you get so hot you start to sweat?
Sand is a big part of summer fun. Here's a link to many sensory activities using different kinds of sand. Try a few and tell how each feels different from the others.
https://littlebinsforlittlehands.com/12-quick-and-simple-tactile-sensory-play-recipes/
Here's Mrs. Hummel's final Art project of the year. It looks like fun! Be sure to send photos of your completed dinosaurs!
A note from Mrs. Hummel:  "You will need pencils, sharpie, or some other dark marker, and crayons or some other coloring tool."
Here's an extra song, just for fun!
Move and Freeze, The Learning Station
Tuesday, June 9
Today's theme is fun at and in the pond.
Here's a great Denise Fleming book about this very cool place. Hear those rhyming words?
Swim with the goldfish!
This is the week of Mrs. Drummey's Virtual Field Day/Field Day at Home. Check out her web page, ldrummey.hcrochester.org , for some great family fun and fitness activities. 
Here's a Math lesson about counting, adding, and subtracting fish.
Goldfish crackers make great math manipulatives. You can sort if you have the kind of goldfish crackers that come with 2 varieties in a bag. You can take scoop or shake out some fish then add some more. After you add some fish together, you can subtract by eating them!  
Wednesday, June 10
Today is Wednesday, but it's also Sun day!
Our read aloud isn't just a read aloud. After the story is over, you will learn about an experiment you can do with some simple things you have around the house, two ice cubes, and a sunny day. (Hopefully, the weather today will do it's part, but if it's cloudy don't forget to try this on the next bright sunny day!)
The link below will take you to a downloadable sun counting activity for your child.
https://teaching2and3yearolds.com/free-preschool-sun-counting-printable/#:~:text=%20Free%20Preschool%20Sun%20Counting,am%20so%20excited…%20More
What better song for a day learning about the sun?
The sun makes shadows. Here's a simple shadow tracing activity.
Thursday, June 11
It's the second day of our Virtual Field Day/Field Day At Home by Mrs. Drummey. Check out her page on the school website.
In case you need some active play for your preschooler today, here's an extended dance and movement session from The Learning Station.
Summer time means picnic time, so here's a read aloud about some animal friends who head out to enjoy the beautiful day and find that something has happened to their picnic foods along the way. If you pause on the last page of the read aloud, you'll find some comprehension questions you can use to see if your child noticed what hen, goose, and duck didn't.
We're Going On A Picnic
Here's an alphabet/memory game you can play called We're Going On A Picnic.
Start off by saying, "We're going on a picnic and in our basket we'll put…(something that starts with A, something that starts with B…all the way to Z! You can play this game a few letters at a time and make it a memory game. Think of picnic items A-F, take a break, then see if you can remember the first 6 items before you work on G-M!)
Dr. Jean has a song about going on a picnic that's full of positional words.  Your preschooler can act out the motions of traveling through the obstacles encountered on the trip.
The Kiboomers teach a lesson about subtraction in this silly, sneezy song .
Friday, June 12 
It's the last day of our Summer Fun theme and the last day of our school year. We have lots to celebrate about this very different and challenging year, so our last day is packed full of fun you can make last all summer long. First of all, it's Friday and time for one more version of Tooty Ta! Friday is Music day, so we'll just add another song from Jack as well.
Tooty Ta! by Jack Hartmann
Our last summer read aloud.
And Then Comes Summer
Here's some summer counting
Our 4/5 friends learned about addition with Jack, now he helps us learn about subtraction.
Check out Scholastic's Learn At Home link, Day 20 for a lesson about kindness and feelings. What a perfect way to wrap up our learning plans for the year.
https://classroommagazines.scholastic.com/support/learnathome/grades-prek-k.html?promo_code=6294&magazineName=classroommagazines
Friday, June 5
Friday is Music day and Tooty Ta is our favorite Friday circle time song.
Here are two versions of the song. The first one is the version we do in school and the second is Tooty Ta in Spanish!
Tooty Ta by Dr. Jean
Tooty Ta! En Español ¡
Yesterday we enjoyed a day at the beach. Today we move from the beach into the ocean with The Ocean Alphabet Book.
Of course, O is the letter that makes the beginning sound in ocean. Someone whose habitat is the ocean also has a name that starts with O. Here's a short but very cute song about him.
Octopus
Practice the positional words  in the song throughout the day.
Here is a very cool science activity you can try when you have the materials. There are many different videos of this project. I think this example is special because it's explained and demonstrated by a child.
Science Ext. Ocean In a Bottle
For our final Math lesson of the week, here are two active counting videos.  Everyone will love the little octopus friends jumping on the bed. Our older students can talk about how as each octopus falls off the bed, they go away and that's called subtraction.
Five Little Octopus Jumping On The Bed
Count to 100 with Jack Hartmann and the Baby Shark characters. (Or as far as you can count!)
Last but not least, here are some ocean themed projects. When the weather outside makes it an inside kind of day, you may want to try some of these for some fine motor practice and some fun, too.
Ocean Craft/Fine Motor Activities:
Have a great weekend! See you here next week for five more days of "Summer Fun!"
Thursday, June 4
Today's Summer Fun is found on the beach. Here's a read aloud about some friends who have a beach day. Listen carefully. I think I hear rhyming words! You can make this a rhyming day and make rhymes all day long.
The story also has lots of positional words. Look for things up, down, over, under. Don't stop there! Spot things above, below, beside, behind, and between.
Thursday is PE and Technology day, so first let's get warmed up with the crew from The Learning Station.
Then count to 100 with Jack and exercise, too! It's PE Math!
https://youtu.be/1dkPouLWCyc
Here are Technology plans from Mrs. Grant for our 4/5 friends.
Starfall ABCs – Keep working on the alphabet!
www.starfall.com
Login: martha.grant@dor.org
Password: starfall
Click on PreK and Kindergarten. Choose ABCs. Let's work our way through the alphabet. We will work on this for a few weeks so we can all get to Z! I hope you are all well and I miss you very much! If you finished the alphabet, you can look around Starfall and choose any activity you would like. You might want to do the colors or numbers again!
I know you still have lots of projects Mrs. Lewis sent home to you, so I won't add any more today. If the rain has finally moved out today, get outside and collect some objects from nature to examine, or sort, or count. Always remember, preschool work is really play! 
Wednesday, June 3
Today is Music day, so here's a perfect song.
Wednesday Song
The summer weather has finally arrived and that means bug season! The Seneca Park Zoo website brings us today's read aloud, The Very Hungry Caterpillar by Eric Carle. 
Here's a link to a project to complete after watching the read aloud above.
https://senecaparkzoo.org/wp-content/uploads/2020/05/Caterpillar-egg-carton-project.pdf?x82903
A butterfly is an insect. Check out Scholastic Learn At Home for information about ladybugs and butterflies. Go to Week 3, Day 13. After watching the video, "The Life of a Butterfly"  you can talk about why The Very Hungry Caterpillar is fiction or a make-believe story (a real caterpillar wouldn't each all those different foods) and the video is non-fiction. It teaches us facts or true things about butterflies.
https://classroommagazines.scholastic.com/support/learnathome/grades-prek-k.html?promo_code=6294&magazineName=classroommagazines
Want to know what makes an insect an insect? Dr. Jean has a song about the part you can look for to identify a true insect from other creatures we call "bugs."
https://www.bing.com/videos/search?q=counting+songs+for+preschoolers+1-100+bugs&&view=detail&mid=921E3CB8C857F290B9BD921E3CB8C857F290B9BD&&FORM=VDRVRV
For Math today, let's start with some sorting and counting.
Now that you're warmed up, go outside and collect some objects from nature. Bring them inside, or stay outside if the weather's nice, and see how many ways you can sort your collection.
For our 4/5 learners, here's a lesson about addition with Jack Hartmann. Just like with the sorting activities, you can practice adding with all kinds of things you find around your house. Sort all the M&Ms or Skittles by color, then add all the colors to find out how many there are all together. When you eat the candies, that's subtraction! 
Have a great Wednesday!
Tuesday, June 2
Today we celebrate a favorite summer treat, ice cream!
ELA
Find the rhymes in this read aloud. Pause and count the scoops of ice cream on the pages.
Ice Cream Everywhere!
Math
What's Your Favorite Flavor of Ice Cream?
Count how many kinds of ice cream there are in the song. Roll a die, then decide which flavors you would choose if you could put that number of scoops on a cone. Draw or paint an ice cream cone or bowl of ice cream with your favorite flavors. Parents, help your 4/5 year old sound out the names of the flavors and write them.
Tuesday is P.E. Day! Here's an active song about ice cream.
Then you can Boom-Chicka-Boom with Jack Hartmann.
Don't forget to go to the Scholastic Learn At Home page for lots of learning activities.
https://classroommagazines.scholastic.com/support/learnathome/grades-prek-k.html?promo_code=6294&magazineName=classroommagazines
Monday, June 1
We'll start the week with some bubble fun. Use the link below to find enough bubble ideas to fill the entire week:
https://www.preschool-plan-it.com/bubbles-theme.html
Today's read aloud is by Tomie dePaola.
Of course, The Kiboomers have a counting song about bubbles!
And here's another bubble popping and counting song!
If you haven't had time to check out the Scholastic News Learn At Home website, this would be a great time to do so. Use the link below and click on Week 3. You can learn about ladybugs, butterflies, rain, dental health, and how kids can show care for others. There are math, science, reading, health, and social/emotional learning activities galore. Be sure to browse through the Play Starters. You'll get enough ideas on how to initiate purposeful play with your child to last through June, July, and August.
https://classroommagazines.scholastic.com/support/learnathome/grades-prek-k.html?promo_code=6294&magazineName=classroommagazines
Monday is Art day. Check out the directions for really vibrant bubble painting below. Yes, it's messy but that's why it's so much fun! And this is the time of year when everyone should be outside, even if we can only go as far as our own yards! I'd love to see what art you make. 
https://teaching2and3yearolds.com/how-to-create-bubble-art-using-vibrant-colors/
Have a great Monday! Watch for an invitation to our first class Zoom meeting on Wednesday morning!
Learning Activities For the Week of May 26-29
I know that Mrs. Lewis  has already sent home a packet including ELA and Math activities for you to use this week. I don't want to add more to those resources, so I'll be adding some on-line activities you can use as well. If you haven't had a chance to pick up your child's packet from the foyer of our building, I would be happy to bring it to you. Please send me an email and we can schedule a time when I can safely deliver the packet to your home. Next week I'll send out a plan for the first week of our final theme of the school year, Summer Fun.
Here is a schedule of activities for you to use with this week's packet. Please use it in a way that works for you, especially as work responsibilities begin to change for some of us. 
Each day this week:
All PreK students can:
Read and color the page in your My Book of Community Helpers that shows a helper we're learning about that day ( Tuesday would be the vet) then choose one more page to read and color. (If you do 2 pages a day, you'll be done on Friday! If you've already colored the pages for both the helpers of the day, choose another 2 pages to finish.)
On the I Am: A Community Helpers Book page, find the picture of one of today's helpers, cut it out, and glue it in the correct box. We'll use the helpers on the  last two pages as our Friday Question of the Day choices to complete it this week.This is a great opportunity for some fine motor work. Parents, you can cut out a strip of the pictures needed for the book, then have your child cut out the needed picture each day. 4/5 year old friends may color the picture if they'd like. 
Cut out the Community Helpers Count To 20 Count and Clip Cards. You can staple them together to make a booklet or keep the pages in a ziploc bag to keep them together. 4/5 year old friends should complete all pages. 3/4 year olds can count as high as they'd like. Five pages a day will get you to 20 by Friday!  Again, 4/5 year olds can do as much cutting as possible! (It's why you have the tape! )
Use the Community Helper Picture/Word cards as you choose. They're big, so everyone should be able to cut them out, maybe with a bit of help from a grown up. As Mrs. Lewis has suggested, 4/5 friends can put them up around the house to practice reading them or practice writing the letters. Everyone can act out the job each helper would do. You can also sort toys your child has that each helper would use in their job. Look through the cards and see if you can think of someone you know who does each job. You can count how many teachers, doctors, cashiers, grocers, you know. 
During Community Helpers week in school, we enjoy making a post office and mailing letters there.  You can use a large box and color or paint it to look like a mail drop box. Give your child some old cards or note paper and some writing tools they can use to write and draw letters to friends or family members. If you get really interested in this activity, you might even want to draw, write and address some real letters or cards.
4/5 year old friends only:
Choose one (or more) of your favorite community helper pictures from the "Write the words" pictures. Parents, you may help your child identify the letters in each word to write on the label. If your child benefits from some support, you can write the letters of the word in a light colored marker and have them trace over the letters. 
Use the remaining parts of the packet as you choose.  There are pages for your child to dictate what they know about some community helpers jobs. There are also 2 pages for each child to tell about a community helper job they would like to do when they grow up. Either or both of these pages could go in your journal binder when you receive it at our PreK Closing Day Parade!  (Details will be coming soon!)
Below you'll find daily links to videos and read alouds for the week. If you missed a day, just scroll down and you'll find the links that were posted that day.
May 28
Thursday is PE and Technology day for PreKK. Mrs. Drummey has chosen 5 of the  26 different videos from the PE Fitness Frenzy collection for students to try this week. The link to her page is:
ldrummey.hcrochester.org
Check out the activities for Field Day At Home, too!
Here is Mrs. Grant's Tech Starfall.com assignment for the next several weeks:
"Click on PreK and Kindergarten. Choose ABCs. Let's work our way through the alphabet. We will work on this for a few weeks so we can all get to Z! I hope you are all well and I miss you very much!"
PreK
Starfall ABCs – Keep working on the alphabet!
www.starfall.com
Login: martha.grant@dor.org
Password: starfall
Question of the Day:
Do you want to be a teacher or a farmer?
Here's a link to a song about a farmer:
May 27 
Remember to work on the pages in your My Book of Community Helpers book today. Wednesday is Music day so here are links to some songs about community helpers.
May 26
I am very happy to be back with all of you to finish up this very different and interesting school year. I hope you were all able to enjoy Memorial Day weekend. It's an important holiday, when we remember and give thinks for those who have given all to protect us and our country. It also is the perfect way to begin our theme for this week.
This is Community Helpers Week. Community helpers are even more important in our lives right now as we navigate through the current crisis and gradual reopening of our city, state, and country. 
Today we'll kick off the week with a very special community helper, the zoo keeper. Today we can enjoy a virtual visit to the Seneca Park Zoo as they celebrate International Otter Day. I was able to go to last year's Seneca Park Otter Day and it was very interesting.  If you copy and paste the link below, it will take you to the page for the event. You can register to Zoom a Zookeeper Chat/Otter Enrichment Experience at 10 a.m. or 1 p.m. I absolutely love these mischievous, active mammals and I'm already registered for both sessions myself! 
https://senecaparkzoo.org/event/otter-day-2020/
Here are some links to short videos about a zookeeper's job and also about another community helper who takes care of animals, a veterinarian.
Our Question of the Day is…
do you want to be a veterinarian or a zoo keeper?
I hope you have a chance to enjoy the otters today!
Ms. Kramer
April 9, 2020
It's a yucky Holy Thursday outside, so here's a favorite PreK Easter art activity to brighten up your day. We cut egg shapes out of card stock or tagboard, then mix the corn syrup with different food coloring as shown in the video and paint the glossiest (and stickiest) Easter eggs ever! We let the kids use their fingers to paint their eggs but you can use a paint brush or q-tip as suggested in the video if you'd rather keep things a bit neater. The thicker the syrup, the longer it takes to dry! Paper plates could be used instead of card stock. Next year we may use the syrup as icing on egg-shaped sugar cookies.
https://youtu.be/7Idnf94NCio
I hope you're having a safe and happy Spring Recess week!
Ms. Kramer
April 2 Learning Plans
Hello Families,
Yesterday's question and bird counting results are in. At last count, the daffodils had 4 votes and the hyacinths only 1. Bennett counted 10 birds yesterday and Kayden counted 17! If you'd still like to count some birds or vote for yesterday's 2 flower choices, please do so by email or on the Facebook page. I'll report any further results on Friday.
For today, let's celebrate the messiness of this time of year.
The question of the day is:
Do you like to…
               play in mud?                                                       splash in puddles?
Spring can be a messy time of year, so  here's a great book about a dirty dog, read by a great lady!
https://youtu.be/7j0OY3236jw
And…
Pigeon books are among our favorites when Miss Kim, our Charlotte children's librarian, visits us, so here's the story of what happens when The Pigeon Needs A Bath.
https://youtu.be/pJ9NeqlcLMg
It's PE day again!
The spring movement song from Wednesday starts off this link followed by 30 minutes of spring music and movement for you to enjoy in the week ahead.
 Since Easter is getting closer, you may have some jelly beans. They make great Math manipulatives. 
You can sort them by color.
You can make patterns.
You can use different sized utensils (scoops, spoons, cups, etc.) to see how many you can scoop with each and compare the amounts.
You can play a game with them using a die or number cards. Two players take turns rolling the die/pulling a number card, counting out the number of jelly beans, then comparing who has more, fewer, or equal sets of jelly beans. You can practice adding by taking several turns each, then subtract by eating!
If you're finishing up this week's Seeds issue about emotions, here is a link to an episode of the Netflix series StoryBots on "Emotions." It's entertaining and will help you keep the discussion about feelings going. After watching the video, I would be sure to talk about the importance of accepting our feelings, even the ones that are uncomfortable. We also often talk about asking our friends if they want a hug before trying to make them feel better that way. Not everyone wants to be hugged and especially right now when we're trying to be respectful of others' personal boundaries, it's an important part of the discussion. 
This coming Sunday is Palm Sunday and the last Seeds issue in your packet is about the day that begins Holy Week. I hope you all saw Mrs. Martell's announcement of our school Palm Sunday event. Just in case you missed it, I'm including it here. I hope to see many of you on Sunday morning.
This is the last day that I'll post plans and learning activities for our class. We will be on Easter break tomorrow, Friday, April 3 through Monday, April 13. Mrs. Lewis will be planning for and directing all our preschoolers' learning beginning Tuesday, April 14 until school reopens. 
I will continue to stay in contact with you all through our class Facebook page and email, especially through email for those families who are not on Facebook. I'll post a variety of links and activities I've found that I think our class will enjoy. I'll also suggest which pages your child should try to complete in our handwriting book and share some read-alouds that we would use at this time of the year in school. All of these will be resources you can use if you choose. I hope you haven't felt pressured to complete all the suggested activities I've shared so far. Our goal has been and will continue to be to support your work with your child at home and to provide some continuity and connection between all of us while we're apart.
I hope you'll continue to post photos of your learning, adventures, and fun with me in emails and on our class Facebook page. I love seeing the pictures you share and those little faces always make me smile.  I miss them all more than words can say. Please stay safe and well. I wish you all a peaceful Holy Week and a very Happy Easter.
Ms. Kramer
Plans for April 1
Happy April 1st! If any of the links in these plans take you to the wrong site, I promise it's not an April Fools Day trick, just a technological glitch. 
As I write this message, yesterday's Question of the Day results are: tulips 3, crocuses 3! There's a chance to use that word "equal" again!
Today, do you like the…
            daffodils?                                                          hyacinths?
T
Today is the day we would read The April Rabbits by David Cleveland if we were in school.  Unfortunately, I was unable to find a read-aloud of this very silly counting book featuring mischievious rabbits. Instead we'll go with an informational literature choice, How Do You Know It's Spring?
After watching the read-aloud, take a walk or go outside in your yard and count the birds you see. Let us know how many you count and we'll see who sees the most and the fewest. It can be one of your Math activities for the day.
As another Math activity starter, here is another Problem of the Day. Help your child identify which house is on the left and which is on the right. One clue to help remember is to make an upper case L with the pointer and thumb of the left hand. L is for "left!"  You can practice telling left from right all day. 
Today is Music day. Here's a link to a Learning Station song called  "Spring Is Here"! 
After your child has enjoyed the song, you can talk about or make a list of the spring things in the song you've seen so far. You can also make a list of the ones you're still looking for. Your child can write the letters of the words, if you cue them on the sound or tell them the letters.
Our class loves to see the squirrels who are constantly on the grounds of the school. The link below will take you to a short video that shows a squirrel (who did not hibernate) waking up hs animal friends who have been in hibernation all winter when he realizes spring has come. 
Help your child identify the different animals in the video and how many they've seen outside recently. Most of them can be seen around our school or your neighborhood. Maybe you'll spot some the next time you're outside. 
As a follow up to this week's Seeds lesson about emotions, here's a link to The Way I Feel, a great resource to help identify emotions and to talk about how to handle the ones that are unpleasant.
If you need a bed time story, I found a new read-aloud while searching for some spring titles. It's Ten Magic Butterflies. There are rhyming words, lots of ways to make sets of 10, and an opportunity to talk about which flowers ask politely to be changed into butteflies and which could use better manners. The story also ends with a lesson about how each of us is special just as we are. 
I hope you all have a great day learning and staying safe together.
Be well!
Ms. Kramer
Happy Tuesday Everyone!
Learning Activities for March 31:
Results are in from yesterday's question.  The Eastern Bluebird had 5 votes and the Robin 2. Don't forget to ask your child which is more and which is fewer.
Today we vote on some spring flowers.
Tuesday's Question of the Day is:
Do you like the…
crocuses?                                                       tulips?
Today's read-aloud is Spring Is Here by Taro Gomi.
https://youtu.be/GEpJrVkeWbs
Although this book's title is about spring, the book actually moves through all four seasons and back to spring. You can pause and talk about how the calf in the beginning of the story slowly disappears into the illustrations, then reappears as a cow when spring returns.
This book is a great one to use as a journal entry. Have your child choose their favorite page and draw it on a journal page. Don't forget to date the entry and ask your child to dictate a description of what they've drawn.
After watching the read aloud and enjoying the (really, really cool!) illustrations, watch again and pause to look for letters (or words) your child recognizes in the text. 
Math Activity:
Remember the "5 Little Ducks" video? See how many ways you can make a set of 5. Use anything you have handy. ( 1 yellow Fruit Loop and 4 red, 2 yellow jelly beans and 3 purple, etc.)  You can write down all the ways you make 5, if you choose, either as "1 and 4 make 5" or "1 + 4 = 5," whichever way you prefer.
Tuesday is a P.E. day so let's get moving!
Jack Hartmann is back with a spring song and there are lots more after that one to keep your child moving.
There's also this Easter song, Ten Easter Bunnies, to keep your child active.
https://youtu.be/Tyyh8rhwKQ8 
Or you can continue the counting and exercise by counting how many hops/jumping jacks/toes touches, etc. your child can do.
 Our Seeds lesson for the week continues:
Talk about the feelings of the people in the story of Lazarus. Draw the feeling faces on page 2 of the activity booklet. 
At your convenience, cut apart the feeling cards on pages 3-4 of the booklet. Play a feelings matching game. This is a great time to talk about different feelings and how your child can appropriately express them.
Tomorrow looks like it may be a better day for some outdoor learning activities. Of course, it could also be the start of April showers. We'll see what the morning brings. Enjoy your time together until then.
Ms. Kramer
March 30
Good morning! Our theme this week is "Spring Is Here!" so we'll start with a question about birds.
Today's Question of the Day is:
Do you like the…
                          Robin?                                                                   Eastern  Bluebird?
I may have missed some of Friday's votes on our last two egg choices. Let's make it an addition story. If 3 friends voted for the chicks made from hard-boiled eggs and 1 friend voted for the speckled eggs, who many friends voted on Friday? If you didn't get around to voting, it's not too late. I'll add any more choices that are posted to our FB page or sent in an email today.
Our ELA lesson today is to watch the read-aloud story  When Spring Comes!
After watching the read-aloud, talk about what part of spring we seem to be in right now. This would be a great day to take a walk and look for signs of spring, then paint a spring picture or make a journal entry about your favorite sign of  spring you saw while outside.
For Math today, watch "5 Little Ducks."
Here's a subtraction story as the ducks fail to come back and an addition story when they all return, thank goodness!
This week's Seeds lesson for March 29 is based on the Gospel story of Jesus raising Lazarus from the dead. The activities allow an opportunity for discussions about a variety of emotions. I'll be suggesting links to songs and stories about handling feelings during the week. This is a good time to discuss with your child the strategies for handling difficult emotions that are acceptable in your family. 
Monday is our Art day. Hopefully you've been able to work on the Eric Carle project Mrs. Hummel shared with us last week. Here is a link to another spring art project using simple supplies to make flowers.
I hope you're all keeping safe and finding ways to enjoy the change of seasons at the same time. I look forward to seeing lots of photos and hearing about your learning as this week before what would have been our Easter break goes on. 
Ms. Kramer
March 27
Happy Friday, everyone. Today's Question of the Day is:
Do you like the..
               speckled eggs?                                                           chick eggs?
       .
Yesterday's final vote was: eggs with the circles 5, flower eggs 2.
The last read aloud of the week is another Dr. Seuss classic, Green Eggs and Ham.
This would be a great day to finish the "I Can Rhyme Like Dr. Seuss!" book.
Here are some other ELA activities :
Before bed, look at a book and tell a family member what is happening in the story. 
Some time today or over the weekend, pick your favorite read-aloud from this week and complete one of the"My favorite book this week was…" journal pages.
For Math today, play "What's Missing?" We use this game as a way to transition to snack or to line up for a special in school. Write numbers from 1 to 10 (or to 20, if you prefer) or use number cards, if you have some or want to make some. Put the numbers in order (a great activity by itself), then the preschooler turns away or closes their eyes while the grown up covers or removes a number in the sequence. Tell what's missing!
It's Music day!  Sing the "Good Morning Song" with Mr. Sheffer!
Here are some links to counting and letter sound songs.
This one is from Mr. Sheffer, just for fun!
I'll be watching for the last votes of E Week! Have a great weekend!
Ms. Kramer
March 26
Results from yesterday's vote on real elephants are in:. Asian elephant 8,  African elephant 4. Frankie had fun collecting red things around his house yesterday, Cayden (with a C) was doing journal work, Kayden (with a K) drew a self-portrait (which may or may not show him with a beard!), Bennett was coloring, and Landon, Michael, and Carter were enjoying working on their packet activities. I know everyone else was doing great things, too, and I can't wait to hear about them in person.
I hope everyone is having a great Thursday. We're back to eggs for today, so our question of the day is:
Do you like the…
Easter egg with the thumbprint flowers?                   Easter egg with the circles?
This would be a great day to do some thumbprint pictures on a journal page or any other kind of paper you'd like to use. It's feeling and looking more and more like spring outside. Flowers are cheerful, too, and we can use all the cheerful things we can think of right now! Here's a link to inspire you:
https://www.bing.com/videos/search?q=how+to+make+thumbprint+flowers&docid=608045640737820285&mid=1DD1962F108FB16E5DB91DD1962F108FB16E5DB9&view=detail&FORM=VIRE
(If you're having trouble getting the links to work, be sure you're using the Bing or Google search box when you try to open them. If that doesn't work, let me know and I'll ask Mrs. Grant if she has any idea what's causing the trouble.)
These flowers can also be a counting and math activity for you today. You can count how many thumbprints used for each flower. You can also count the total number of flowers you make. Talk about how you're adding when you make the flowers, then play a subtraction game. (Parents, be sure to remind your child that word means we're taking away things and will have fewer.) Make up a story about picking the flowers. Ask how many your child wants to pick, cover up the number as they say "I picked 3 flowers," etc and count how many are left. Restate the action. "You picked 3 flowers. That leaves 4."
If you don't have paint to make the flowers, you can draw them or use a real object to act out adding and subtracting stories. "8 trucks parked in the driveway. (Count by 1s as they drive up) 3 drove away. 5 were left." "6 stuffed animals came to play. 4 went home and 2 stayed to play."  The possibilities are endless!
ELA 
Today's read-aloud is one of my favorite Dr. Seuss books, Horton Hatches the Egg.
https://youtu.be/NyBlX2XkMbY 
It's full of rhyming words, of course. This is a great day to work on the "I Can Rhyme Like Dr. Seuss" book if your 4 year old hasn't finished it yet, if your child is 3 and doesn't have the book, or If you  just like the idea,  make it rhyming day. See how many rhyming words you and your child can think of throughout the day. Trying to work them in to your conversation and asking your child to catch you when you do can be fun!
This story also gives us a chance to talk about values like loyalty, faithfulness, courage, and perseverance. Horton is a great role model, whether he's sitting on the egg or protecting the Whos that only he can hear.  Here's another link, if you'd like to use it later.
It's PE day! Check out  Jack Hartmann's "Count to 100 and Stay Fit" link below. 
The video links seem to be posting completely today, so hopefully they will be easier to use. 
Have a great day, everyone! Stay in touch!
Good morning, All!
Yesterday's winner of the Question of the Day is the blue elephant with 5 votes. The gray elephant got only 2.
Michael chose yellow as his  color of the day. He counted 6 yellow things in his house. Your child can do the same, if you'd like. Feel free to take a photo of their collection and post on our FB page or send it in an email!
Today's Question of the Day is:                  
Do you like the…
Asian elephant?                                                       African elephant?
Today's read-aloud is a non-fiction one that will tell your child some science facts about real elephants. We sometimes call fiction "fake" stories (because fake and fiction both start with the sound of F) to explain the difference between them and non-fiction sources. You can remind your child that non-fiction books teach us facts about their subject. This read-aloud will help them learn about real elephants.
Elephants  non-fiction book
blob:https://www.youtube.com/759e3a89-9464-482a-bb1e-c8bb23d850f2
 As a science extension:
After watching the read-aloud of the book, tell a grown up two things you learned about elephants.
This would be a great time to start working in your 4 year old's ABC, 123 Just For Me! handwriting book. We've only done page 5 in school, so you can start at page 6 and work along to page 24. There are shape activities as well as practice of the basic strokes we use to write letters. We'll start the actual letter pages tomorrow.
For Math today, I'd like to introduce the Problem of the Day, taken from a Kindergarten Math chart from way back when I taught that grade. Each picture features a different concept. Today's first problem asks your child to tell which animal is on top and which is on the bottom in the picture. You can use this question throughout the day, finding things in your house that are on top (or above and over, if you prefer) and on the bottom (or below/under.) 
Today is Music day so here's a great ABC song that Mrs. Lewis' class already knows. It's great practice and fun. Your child can bounce or jump while singing it. In fact it's so good that you can use it every day, if you like!
As the week goes on, try to work on the Easter Bunny book, which all students have. You can do a few pages at a time or the whole thing at a time if your child wants to complete it in one sitting. You can also pick a color of the day and see how many things that are that color your child has, stuffed animals, shirts or socks. Whatever they and you choose.
If you are ready to start this week's "Seeds" religion lesson, it's about the Gospel story of Jesus healing the blind man. The middle pages are a shape coloring activity. This would be a great time to complete some of the shape cut and paste activities in the take-home packet whenever you'd like to use them. 
I hope by now your child has completed a journal page or two about the things you're doing at home. If you run out of the journal pages I sent home, feel free to use any paper you have as more pages. Just date each one and write a sentence your child has dictated about what they draw. Some of our 4 year olds are ready to start writing for themselves. If your child wants to try, you can either tell them the letters to write to label their picture or cue them by sounding out the word and having them tell you what letter they write for each sound. 
Don't forget the MY BIg World With Clifford issue in your child's packet. It's all about  A Teeny Tiny Nest and the egg in it!
Have a great day and keep learning!
Ms. Kramer
March 24
Dear Parents,
Mrs. Lewis and I are in the process of coordinating transfer of remote learning for PreKK to her. Since my plans for our class are already done for this week and next, I will continue to post them on our class page on the website. I will also send them to you by email. This will allow us to give our students some continuity as we move forward. I apologize that I'm a bit late in sending these out today. I was waiting to confirm that was the plan. 
For today,
the question of the day is: Do you like the…
                            blue elephant?                                          gray elephant?
ELA activities:
Read-Aloud – Elmer
Before you watch the read-aloud, pause the video  and look at the cover of the book. Ask your child how they know that Elmer isn't a real elephant. 
After watching the read-aloud, see if you and your child can find the letter E around the house. You can make this a Math activity by keeping a count of how many Es you find. 
Art extension
If you have paints at home, your child may want to paint a colorful elephant of their own. They can use marklers or crayons if you don't have paints.  This can be done on one of the journal pages that were sent home or other paper, whichever you and your child prefer.
Math activity
Watch "Five Elephants in the Bathtub." There's clapping and repetition for you child to join in!
Use this adorable felt board poem to introduce simple addition concepts. Young children will giggle with glee at the surprise ending!Felt Puppets from Artfelt Puppets

Posted by Play to Learn Preschool on Sunday, January 14, 2018
Since the teacher in the video reminds her class that the elephants are being added to the tub, this would be a good day to point out activities around the house that also involve adding. (pouring cereal, taking out place settings, etc.) Try to be aware to point out the things you add throughout the day and ask your child to be on the lookout for them, too. You can also point out subtracting (taking away) activities like putting toys away, if you choose. This could be helpful with getting chores done as well as developing arithmetic skills! 
It's PE day! Here's a link to "The Elephant Dance." Lots of movement for your child to enjoy.
I felt as if Monday's plan had a lot to it, so I won't add anything else today. If there are activities you and your child didn't get a chance to do yesterday, try to do them today if that works. Please continue to post pictures of your home learning activities on our Facebook page or sending them by email to me. I will send out the final vote tally on our two elephants this evening.
Have a great day and stay safe!
Ms. Kramer
March 23
Dear PreKK Families,
Earlier today you received an email from Mrs. Martell explaining that some faculty and staff lay offs have been necessary because of the financial hardships caused by the Covid-19 crisis at Holy Cross School and parish. I am very sad to say that I am among those whose positions have been cut. As difficult as the situation is, it is a temporary one. I expect to return to Holy Cross when school resumes and our daily operations return to normal.
Our Preschool remote online learning will continue in the very capable hands of my PreK grade partner, Mrs. Lewis. We are working out the details of how our class will receive instruction going forward. As soon as we have a plan in place we will let you know. Mrs. Lewis is an awesome teacher and I know our students will enjoy all the fun and learning she has planned for them.
Our "Ms. Kramer's PreK" Facebook page will remain active. I hope to see lots of posts and pictures of "my kids" until we all see each other back at the Early Childhood Center. Hopefully, that will happen sooner rather than later. Until it does, I hope you will all stay safe and healthy and find ways to enjoy yourselves and your children in the midst of the uncertainty around us.
I will keep all of you in my heart, my thoughts, and my prayers in the days ahead. I'll close with some words from Mrs. Martell who reminded us to keep our "faith in what you cannot see at this time and your hope for what we do not have in hand right now." We are Holy Cross, a family of families, and circumstance and troubles will not change that.
Love and prayers,
Ms. Kramer
This is the place to find messages from Ms. Kramer, question of the day, and some plans for at-home learning while we are away from school.
Monday's Question of the Day results so far:
Tie-dyed eggs- 2, Rainbow eggs-4
I will let you know if I get more responses by the end of the evening.
Here is Mrs. Hummel's 2 week Art plan for PreK & K students. There is a wonderful illustration of the project in her email, but I am not able yet to add it to this page. Here are the directions:
Grades Pre-K and K Art Eric Carle Suns!
Vocabulary: Eric Carle: Eric Carle is an American designer, illustrator, and writer of children's books. Texture: How something feels or how it looks like it feels in a picture. Warm Colors: warm colors: red, orange, and yellow. Think of the sun! Materials 1. 2 Large papers (heavy if possible) 2. An object to trace a large circle. (coffee can, bowl) 3. Pencil 4. Paint: orange and yellow (if no paint then crayon is fine- use line texture) 5. Objects to create texture: Old toothbrushes, sponges, forks, etc. 6. Crayons 7. Newspaper to cover work space.
Reference video on YouTube: Eric Carle reads The Very Hungry Caterpillar https://www.youtube.com/watch?v=vkYmvxP0AJI
Week 1 Directions: 1. Watch video with Eric Carle reading the very Hungry caterpillar. Notice the sun in the story! 2. On a large paper add orange and yellow liquid paint. Go between covering the paper with a brush and using tools to create texture. Be gentle to not rip the paper! Blend your colors and have fun!
Week 2 Directions: 1. On the back of your paper trace a large circle with pencil. Have an adult help you cut it out. Glue it to another paper. (can be colored or white) if white, color or paint blue when done. 2. Gently rip stripes of the left over paper. (or an adult can cut strips)These will be your sun's rays! Glue these down around your large circle. With a crayon, add a happy face!
If you do not have paint, and you want to use crayon, have students make texture with lines instead.
Send me your finished work if you would like to. I'd love to see what you come up with!
March 23
Happy Monday!
We had a few more votes on Friday's Question of the Day. The final results: the gray and white rabbit with the pointed ears had 6 votes and the brown and white lop-eared rabbit had 2. Please ask your child to tell you which rabbit had the most and which the fewest votes. It's helpful to use counters of some kind to show both sets (blocks, cars, etc.) so your child can physically compare the amounts.
This week's theme is "Eggs and Elephants." Our letter of the week is Ee. Today's question:
Do you like the…
rainbow eggs?                              tie-dyed eggs?
Today's ELA activity is:
Watch the read-aloud of Chickens Aren't the Only Ones by Ruth Heller.
Point out that Ruth Heller is the only one whse name is on the book, so she's the author and illustrator. Ask your child if they can tell you what the author does and what the illustrator does to make the book.  After watching the read-aloud, ask your child to tell you three animals who hatch from eggs. Only one can be a bird! 
 Math activities:
3/4 year olds:
I hope that our 3 year olds have finished a page or two in the color pages featuring Sesame Street characters. If not, they can do a few this week. The goal should be to have 5 pages (one a day) done by Friday. As an extension, you can choose a color they've completed and go on a "color hunt" through the house. Count how many things you find that are the chosen color and let me know the total. (A photo is great, if you can do it!)
4/5 year olds:
Eggs come in cartons of 12. A group of 12 is called a dozen. Make a group of 12 things in your house and send a photo of your child with the group.You may post the photo on our Facebook group or send it to Ms. Kramer in an email. Send an email telling what kind of group you made if your child would rather not take a picture.
Monday is Art Day! Mrs. Hummel has planned a great project using an Eric Carle book. I'll forward her email to you all so you can open it and decide when it will work best for you. This is a 2 week project, so you can plan accordingly.
For Religion, be sure to complete the activities in last week's Seeds issue ( "Jesus Asks For Water")  by Wednesday this week. It's great that these lessons use the Gospel reading for Sunday. If you and your family miss the livestream of your parish liturgy,  you can still share the message the homily would be based on. 
In the packet of materials sent home,  please encourage your child, whether 3/4 or 4/5,  to use at least one of the  trace and wipe activities each day. If they want to do more than one, that's great but don't make it a battle. They can choose numbers, letters, or shapes for themselves each day.  When one choice is done, they have to choose a different one next time so they get a chance to practice each once a week.
Your 4/5 year old should complete the first 2 "Shapes" cut and paste activities by the end of this week. (circle/square/triangle and oval/diamond/star)  
3/4s and 4/5s should complete a journal page this week. Your child can draw a picture of something you've  done as a family in the time you've been home together, a rabbit or an egg of their own design, or anything else they choose, really. It's their journal. (We encourage them to think of things they want to remember at the end of the year when all the pages are put together.) Please be sure to write a sentence they dictate about what they've drawn and write the date of the journal entry on each page. These pages should come back to school, so they can go in the home-to-school vinyl folder for a safe return.
Wow! That seems like a lot! Please take your time with the activities and don't feel pressured to complete everything if it causes stress for you or your child. Let me know how things are going so I can adjust the amount of activities as needed. I know that many of you are still working, from home or outside the home. Our remote learning is a work in progress and I appreciate any feedback you can give me so that I can make learning at home an enjoyable experience  for you and your child.
Don't forget to join "Ms. Kramer's PreK" Facebook page if you'd like, so we can keep in touch!
March 20
The spotted rabbit got 2 more votes yesterday, so we actually have a tie with both rabbits receiving 5 votes! Ask your child what word we use when the votes are the same number.
Kayden found 15 things that start with the sound of R in his house before 10:30 in the morning yesterday! Great work, Kayden!
Today's question:
Do you like the…
brown and white lop-eared rabbit?            gray and white rabbit with pointed ears?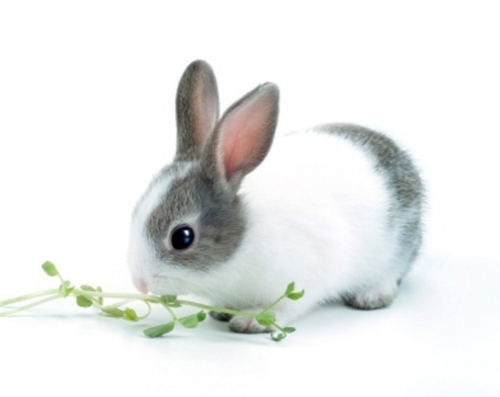 Today we have two read-aloud selections.
One is is an informational book about rain, The Rainy Day 
and
We Play On A Rainy Day, a rhyming book about fun in the rain.
Please make time for your child to watch both read-alouds so that they are ready to complete a journal response page later. This can be done at some time over the weekend, if that's easier for you. 
After reading/watching We Play On A Rainy Day, if your child is a 4/5 year old, please complete the first page in the "I Can Rhyme Like Dr. Seuss" book. (Help them think of a word that rhymes with the word on that page, but remind them that it should be something they can draw.)  You can point out the rhyming words in the read-aloud or ask your child to tell you rhymes for some simple words after finishing the video to get ready for this activity, whichever works for you.  If your child is a 3/4 year old, you can point out the rhyming words in the read-aloud then ask them to help you play a rhyming game by thinking of some words that rhyme.
Over the weekend, please make time to watch the read-aloud of Rabbits and Raindrops.
When your child has enjoyed all 4 read-alouds about rabbits and rain (including Black and White Rabbit's ABC) help them choose one for the first "My favorite book this week was…" journal page and illustrate it. You can put these pages in the vinyl home-to-school folder your child received in September. We will add them to our monthly journals when we get back to school.
Today our special is Music, so here's a link to "The Bunny Hop", a very active song with lots of movements and some counting! I apologize for this choice in advance, grownups, because the tune has been stuck in my head ever since I listened the first time. That's why I know the kids will LOVE it!
You can also check out Mr. Sheffer's page on the school website for links he's posted of some songs he's been using with the preschoolers in class.
If you are keeping up with our Seeds religion lessons, this would be a good time to complete the activities in the "Jesus Asks For Water" weekly. There should be a story to share about the picture of Jesus and the woman at the well and directions for the other acitivity pages tucked inside the newspaper. You should have weekly issues of the Seeds lessons up through Palm Sunday. I'll be sure to include each week's issue in our plans.
There are many activities for you and your child to work on between yesterday's and today's plans. Please take your time and do what works best according to your child's interest and your home/work situation. I hope you will share any suggestions you have as far as what works for you and what doesn't. This is a very new process for all of us.  The most important thing is for us all to remain positive and supportive of one another and, more importantly, of the children. I hope you are all finding time to enjoy yourselves and spend time as a family during these interesting days.
I will report the results of today's Question later this evening.  I hope to add some more photos to the main page over the weekend also. But first, the class Facebook page will be created! I'll let you all know when it's up and ready.
Have a great day!
Ms. Kramer
March 19,2020
Good evening! The winner of Thursday's Question of the Day vote is…the white rabbit with a vote of 5-3. If any more votes come in by tomorrow morning I will update the results. Thank you so much for all the reports of student work and photos today. We are off to a wonderful start. I look forward to hearing from even more of you tomorrow. Have a great night!
Welcome to our first day of online learning. We'll keep things simple for today and tomorrow as we begin. I am working on several options to get these lessons to you. I'll have a more formal schedule to you beginning next week. By then, hopefully, everyone will have their packet of materials available and we can use them together.
We'll start with a Question of the Day, of course:
Do you like the…        white rabbit?        spotted rabbit?
Please send me an email with your child's vote. I'll count and share the results so far at 2:30 today here on our class page. If this doesn't give you time to get your child's vote in, I'll update the counts tomorrow morning when those of you who are working have had a chance to send me your child's vote. It will give us an opportunity to discuss addition!
This week in school would have been R week and we have many fiction and non-fiction rabbit books to choose from. Here's a link to a read-aloud of Black and White Rabbit's ABC https://youtu.be/Mq30H30cTxw for your child to watch. (For anyone who is unfamiliar with this, right click on the highlighted link and select "Open link in new window" to open and play the read-aloud.) As a follow up, ask your child what they would paint if they were Black and White Rabbit. Ask them to choose a favorite page or two and tell you the name of the letter on that page. Also identify the word that begins with the sound of that letter.
Throughout the day, be on the lookout for the letter R (upper or lower case) around the house. You can count how many times you spot it as a math activity.  Share with me how many times you find it in an email, if you choose. We can discuss who found the most and the fewest. Maybe some families will have found equal numbers of things that start with the sound of R!                                                                         
If you have your learning packet, please have your child practice one of the following today:
uppercase letters
lowercase letters
numerals 0-10
shapes (either page in the packet)
Please send me a photo of your child's writing activities when it is done so that I can respond to their effort.
Since today is a P.E. day for us, here's a link to a movement video the class enjoyed when we did it in school a few weeks ago. https://youtu.be/2UcZWXvgMZE  Music and movement are important parts of our day! Check out Mrs. Drummey's "PE at Home!" page on the school website to do the "Chicken Fat Song," a classic exercise routine from the early '60's, if you need to use up some of your child's "cabin fever" energy. It may be a bit of a challenge for our younger students, but it will definitely give them a workout! Today is also a Technology day for the 4 year olds. Check Mrs. Grant's page for some sites our preschoolers have been using during Tech class. 
I will post our learning activities on this page daily. If you can't do them on the day they're assigned, there's always tomorrow. Please take it slowly as we develop our learning routine together. I would very much appreciate your feedback about the activities. (too much, too little, too vague, etc.) I know that by working together, we can make this home-school learning experience a positive one for your child and for you.
Stay well, stay safe, and check your email for more learning tomorrow.
Ms. Kramer 
March 17, 2020
Your first assignment (for tomorrow) : say our Morning Prayer with your child to begin your day!
Dear God,
the work of my hands,
the thoughts of my head,
the love of my heart,
I give to You. Amen. 
Happy St. Patrick's Day! Hope to see you all  at packet pick up tomorrow, Wed. March 18 between 11 am-5:30 pm at the Early Childhood Center. Please use the lower level door.